For Pest control, Call in the Experts!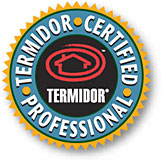 5 Year Warranty on Termite Treatment
Let's face it, a customer's expectations for pest control are quite simple: effective control, affordable pricing, and courteous professional service. This is where Aardvark Pest Control steps in. We are focused on providing an excellent experience for our clients. We are prompt, courteous, and use the highest quality, most up to date, proven products available on the market. Our goal is to not only deliver the highest quality service, but to do it at a very affordable price.

Hands-on owner, Eric Johnigan, says that although this is not always easily accomplished in a competitive market, our many referrals coming from satisfied clients over the years are proof of our dedication to customer satisfaction. We have expanded our business hours to offer evening and weekend appointments for our customers. This is a direct result of communications from our clients; not everyone can just take time off from work to meet a technician during daytime business hours. We make every effort to accommodate the customer whenever possible.

Please check out our competitive pricing. Also, please notice that we do not require a contract, nor do we charge a higher rate for one-time treatments.

Thank you for your interest and we look forward to doing business with you and serving your pest control needs.


--Your Friends at Aardvark Affordable Pest & Termite Control
Call: (806)331-3141

or

E-mail

us TODAY!

Copyright © 2012 Aardvark Affordable Pest Control. All rights reserved.